We are Ethiopians, Italians, British, French, Spanish, Swedish and Somalis so far. We believe Tourism, the biggest voluntary transfer ever of funds and ideas is a concrete economic answer to tragically failing rains in this age of climate change, man made. Our personal efforts strive to find ways to put to practical use what we find, preserve and try to promote along the EXTENDED EAST ROUTE of naturalistic and cultural Tourism, spanning over 3000 kms across Ethiopia, the Somalia peaceful northern breakaway State of Somaliland and Djibouti.

AN ASTOUNDING DISCOVERY
  A Medieval Pentagonal Fortress in a thirty hectares town with paved roads, walled alleys, stone cut stairs and springs, rock hewn churches, dozens and dozens of foundations, a royal mansion. Just Above Addis Ababa, where Minilik had found it, forgotten since, ununderstood until now. VIDEO
The missing link from the expansion of Christianity to the South, during the Axum decline, the rock hewn Churches, and the Gonder era, its Castles. Most Likely, a capital City of Ethiopia, in the golden age of hte XV and the early XVI Century. Possibly, in fact, likely, the Barara mentioned by a number of voyagers to and from Abyssinia those days. Perfectly coinciding, on Fra Mauro Map, we can now reconstruct to reality.
 The MAP: A MEDIEVAL MAP HAS HELPED US RECONSTRUCT MEDIEVAL ABYSSINIA. A MAJOR CAPITAL OF AFRICA STOOD NEXT TO WHAT IS NOW AFRICA'S CAPITAL: BARARA AND ADDIS, IN A MISRAK KIRS PUBLICATION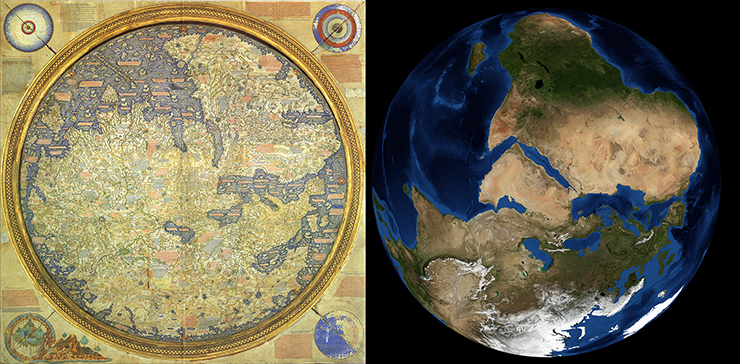 Image NASA, see here.
A first expose' of the Fra Mauro to Ethiopian Heritage relationship study will be presented at the Ethiopian Space Science Society Ninth General Assembly, March 7-8th, at the AAIT main Hall, Hammist Kilo. See this LINK
P'wunt, world conference on ancient African Navigation, concluded in Finale Ligure,
July 16th, 2016. Follow us HERE. Acts will be published soon.
Misrak Kirs associates and our Marco Vigano, member of the Past Masters team,
 ARE IN CHARGE OF DEVELOPING A VAST UNESCO PROGRAMME PROPOSAL:
GIMS, the GOLD IVORY MYRRH and SLAVES routes out of Africa, into the FAR EAST
link leads to the facebook group.
A collection of history rewriting, ground breaking research projects spurred by our finds of two inner oriental China AD 1000 in a mountain pass ancient town in Ethiopia. We teamed up with the Past Masters, a team of international experts trying to explain the astounding find of five AD 1000 Kilwa coins, now Tanzania in nearby... AUSTRALIA! 
We are organising a five days international meetup in Addis Ababa for next summer, to promote the concept, akin, in fact, a developmental expansion of the UNESCO Iron in Africa; revising the History programme.    
          The Past Masters in action the the Wessels, Australia. VIDEO link. 
Misrak Kirs organized a two day Conference with photo exhibitions on the theme of the new tourism route of Ethiopia, the EER, and the oceanic silk routes. Of lost Towns, of the age Axum domination on the sea trade between Europé, India and the far East, of African ships and navigation techniques in the early mIddle ages:
ANNO DOMINI 1000, FINALE LIGURE, ITALY, 31ST AUGUST AND 1ST SEPTEMBER 2013
Two Photo Shows will be part of the Event:
  Marco Adorno Photographer, VOLTI D'OROMIA
  Laura Rodolfi: ALTOPIANI DELLE MERAVIGLIE  
All photoes from the Kundudo Area, first show protraits, second, landscapes.
Do check this NEW collection of academic papers on Ethiopian Action Research.
A Panoramic Photo of Misrak Kirs Association visit to Sahle Selassie's palace area
Fighting the destruction of towers, towns, monuments churches we just found.
  Addis Ababa Zoo lions confirmed to be a genetically distinct population
They come from an initial 1948 six lions donation by Haile Selassie, currently 15, deserve a special attention. We hear of similar mane compact lion sightings in the Babile animal Sanctuary we strive to protect.  A proof of the value of traditional Abyssinian techinical knowledge: the Babile elephant has always been considered a normal elephant, as recently proven by DNA test, the Yehud Anbessa, or Tikur Anbessa, a separate entity. Quite Rightfully! 
  A successful conference in the prestigious Institute of Ethiopian Studies premises,former Palace,     a way to promote our ideals to some of those who count and act in Addis Ababa.
The Sept. 28th meeting of the Misrak Kirs Mahaber has fixed five objectives related to resource mapping, conservation and tourism promotion along the Extended East Route. Five founding members have elected Derib Worku, of the Ministry of Culture and Tourism as coordinator, Yohannis of the AAU as treasurer and Marco as Secretary.
Membership is fixed at 50 birr this year, student membership at 10 while members at large, those living abroad, are asked to contribute 50 USD.
WE KNOW WE HAVE THE MOST INNOVATIVE, EFFECTIVE ANSWER TO A DEEP POVERTY TRAP IMPRISONING HUNDRED OF THOUSANDS: PROMOTE NATURE, CULTURE, REVEAL THE MOST AMAZING HISTORY ALONG THE WIDEST FARING TRADE ROUTE OF ANTIQUITY. Our first project is in reafforestation.
   Reforestation, Protection. Courtesy Yves Stranger, uthiopia.com
  A satelite view of the EER, enlargable HERE